The mere presence of thirty-two children from a Rio de Janeiro favela at the head office of Novavisão (all names are pseudonyms), a leading Brazilian architecture firm, encapsulated the inequalities of Brazilian society, even as it offered a momentary transcendence from them. The children's stories of growing up in a favela without sewerage or paved roads seemed to come from a different universe than the tenth-floor meeting room with its view of the sleek luxury yachts and elite lifestyle of Botofogo beach. Like most favela residents, the vast majority of the children identify as preto ("black"), pardo ("brown, mixed race"), negro ("black", but a term which refers to both preto and pardo) or one of the many other Brazilian designators for those who are not branco ("white"). Like most professional offices, the Novavisão firm was staffed almost exclusively by branco Brazilians. Yet for that afternoon-long meeting these two parts of Rio de Janeiro society that rarely interact outside of public spaces – spaces filled with fears of crime, violence and social segregation – came together to imagine futures that bridged the two groups.
The visit to the Novavisão offices was part of the Eu Quero Ser ("I want to be") career planning project offered by UmRio, a sport and education NGO based in one of Rio's favelas. That afternoon, four professional architects sat and listened as the children one by one gave an account of their dream jobs. Ronaldo, 15, sought to start a bakery in his community. Eva, 12, envisioned designing houses for Rio's elites. Juliana, 17, wanted to study languages at university. Neilson, 15, hoped to be a lawyer to protect his community from instances of unlawful persecution by the police. These varied aspirations defied the presumptions about favela children, who are often characterised, even by some older residents of favelas, as interested only in music, parties and gang culture. Instead, the architects were taken aback by how confidently and articulately each youth spoke of their plans for futures that defied traditional expectations. For one afternoon, the divisions seemed not to matter.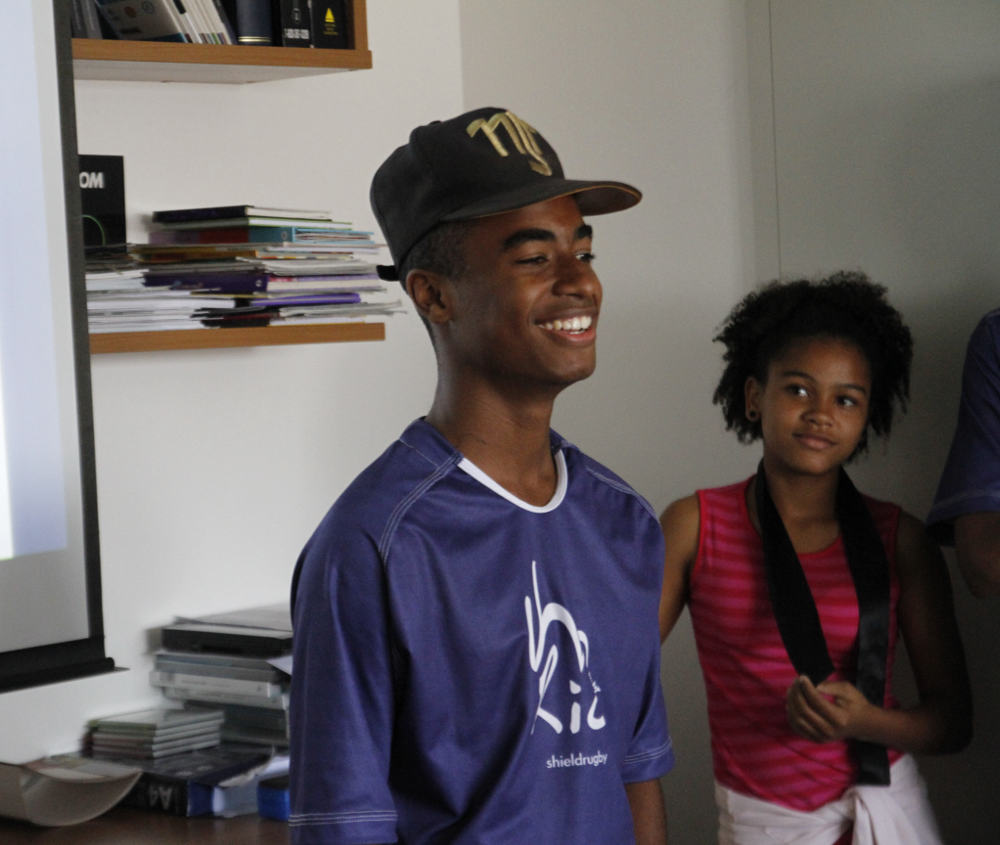 Two of the UmRio participants present their ambitions during the Eu Quero Ser project, Botofogo, Riode Janeiro, 2015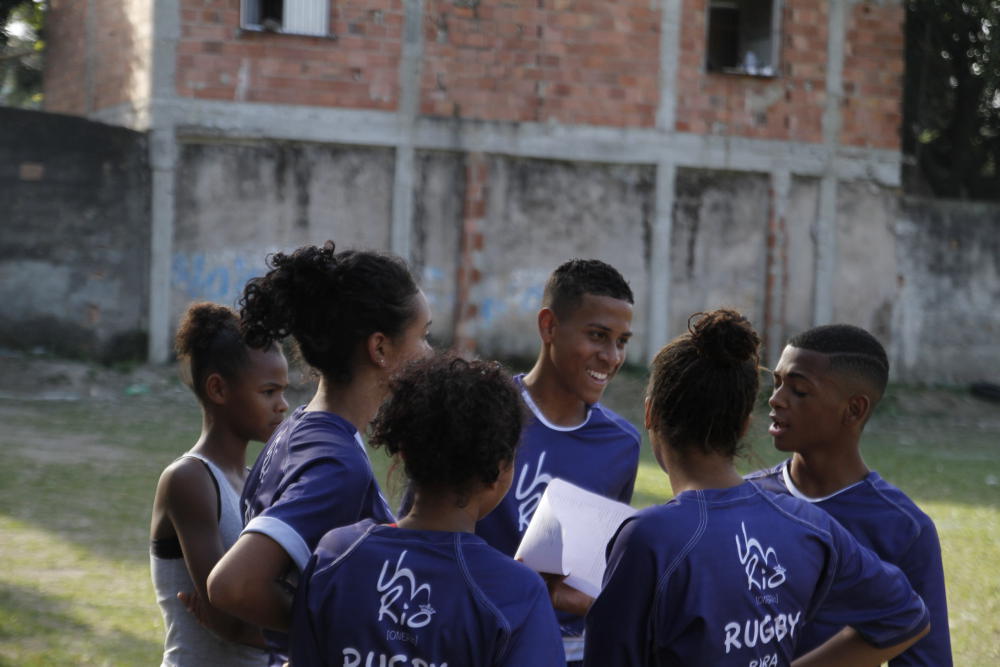 A group prepares for Eu Quero Ser presentations after a training, Morro do Castro, Rio de Janeiro, 2015
UmRio is one of the many NGOs that are emerging to deal with the social problems faced by children in one of Rio's approximately 1020 favela communities. Founded in 2013, it offers children in one favela, Morro do Castro a range of programs, which focus on providing health, education and other services otherwise largely absent from their neighbourhood. Here, local politicians use concepts of civic duty and responsibility to encourage unskilled residents to build their own roads and infrastructure, leading to disasters, collapsing roads and burst pipes. The urban frontiers that divide Morro do Castro from surrounding (more affluent regions) are decidedly dense.
UmRio's attempted solution to these problems is unusual in several ways. Firstly, it works in the more isolated favelas of Greater Rio, which are normally neglected by state initiatives and NGOs. Secondly, UmRio is centred around the sport of rugby, which it uses to build a community and engage the children in other programs. Thirdly, it has strong connections with Oxford University – the founder (and first author of this blog) is an alumnus and dozens of former students have volunteered in UmRio over its four-year history. Overall UmRio aims to leverage the huge social and educational capital of an elite foreign university to allow a marginal group within Brazil an improved social position - utilising global inequalities to address Brazilian exclusion.
Our experiences over the past four years show the potential for a little-known sport to create a community that provides opportunities and identities not otherwise available in the favela. However, the limitations of these sport for peace and development projects have also been revealed, specifically in the persistence of social divisions that hinder UmRio participants as they enter society outside of the program.
The Asymmetric City
'Você conhece o Rio, mas você não conhece o de Janeiro' (you know Rio, but you don't know de Janeiro).
Beach-goers in Ipanema and Leblon turn towards the almost vertical hillsides of the Dois Irmaos ("two brothers") as the sun sets behind the hills ("morros") and applaud. The flickering lights from the favelas wrap themselves around the hills and resemble a constellation of stars above two of the wealthiest neighbourhoods in Latin America. "During the day they are so ugly, but at night they are actually quite pretty", says a middle-aged business man referring to the shantytown slums (favelas) that "stain" the picture postcard images of the Cidade Maravilhosa ("marvellous city"), Rio de Janeiro. Twenty kilometres north, the notion that the favela is an aesthetic burden on the city becomes clearer as white plastic screens curtain a favela complex from the view of visitors travelling from the city's international airport to the wealthier suburbs. Officials claim these screens reduce noise for community residents, but the question of why these screens cannot be transparent remains.
State efforts to hide favela communities is emblematic of a social partition that divides the city. The separation is often expressed in the everyday language of cariocas (resident of Rio de Janeiro) as a distinction between favelas and the asfalto ("asphalt"), a reference to the visible differences in public services that mark a more profound social division. The wealthy opt to live in urban enclaves, fortified areas with private services, while the favelas are defined by their historic lack of the standards and qualities that the rest of the city enjoys.
Rio de Janeiro is best regarded as an "asymmetrical City", defined by differences that transcend the favela/asphalto binary, creating hierarchies, even among Rio's poorest communities. Policy makers channel resources to "pacify" the favelas that border on the wealthy and prestigious zones of Rio de Janeiro. Some favela communities are notorious for their violence, lack of basic public services, the prevalence of drugs and the dominance of criminal gangs. Other favelas are frequented by international organisations, courted by politicians seeking photo-ops alongside government utility works, and offer frequent guided tours for tourists.
UmRio's attempts to address social exclusion in an isolated favela are rare in Rio, and even rarer for its use of rugby.
Rugby, Values and Imperialism
Development organisations that use sports are often guilty of sports evangelism, promoting sports participation as a method to overcome social divisions, teach individual values such as discipline and teamwork, and provide an alternative community to marginal youth, with little conception of the limits of sport. Well-intentioned programs often reproduce narratives of western benevolence, rationality and expertise, and can promote "empowerment" of individuals in ways which obscure systematic problems. The reliance upon funding donated on the basis of an image of the Global South as desperate and incapable of saving itself can lead to NGO practices that reinforce social stereotypes rather than overcome them. Much depends on the connections between sporting practices, associated values, and the broader social context of the NGO.
Rugby, codified in 1869 England, is strongly associated with social and moral codes. The sport was part of English efforts to 'civilise' society in line with Victorian values, promoting regulated outlets for aggression and violence, teaching men to control themselves. It formed part of a class distinction between the upper-middle classes, who saw themselves as embodying a refined controlled and "gentlemanly" set of habits and pursuits, and the lower classes, whom they believed remained undeveloped, playing corrupted, professionalised and unruly contests. Some of these implications move with the sport as it arrives in new locations. Indeed, colonial elites used sports, including rugby, as a part of a project to control the excessive masculinity or degenerate morality of colonial Others.
However, rugby is a relatively new sport to Brazil, and is more strongly informed by the sport's regional powerhouse, Argentina, by way of administrative and coaching support. Argentina is also Brazil's most frequent rugby opponent. It is a tie so strong that Brazilian rugby fans support Argentina, normally their bitter rivals, over other nations in international competitions – nearly unimaginable in other sporting contexts, such as the most popular sport, soccer (football). Brazilian rugby is predominantly bourgeois, played by and based in middle-class areas. This trend mirrors the sport's status in Argentina, where rugby is predominantly played in elite social clubs catering to the upper- and upper-middle classes. However, unlike Argentina and the majority of other rugby playing countries, a high proportion of Brazilian rugby players are women as the sport is not as exclusively associated with masculinity as it is elsewhere. Moreover, Brazilian clubs remain more open to non-elite participation.
A philosophy of voluntarism and camaraderie permeates Brazil's rugby culture, one absent in the country's more established and professionalized sports. Players often cite a "rugby code" that promotes teamwork, respect, enjoyment, discipline, and fair play. Indeed, a small clique of enthusiasts go to great lengths and make significant sacrifices to realize their dream: painting rugby fields, building scrum machines, training in the dark, and attaching poles to football posts in order to see their adopted sport develop. The idea is that when one joins a rugby team in Brazil, she or he is joining Brazilian rugby: a group of athletes and administrators who, despite being scattered across the large nation, talk about a sense of unity over the shared goal of developing the sport. However, as one prominent member of the Brazilian rugby community put it, "Brazilian rugby values are great for hashtags, but much harder to implement".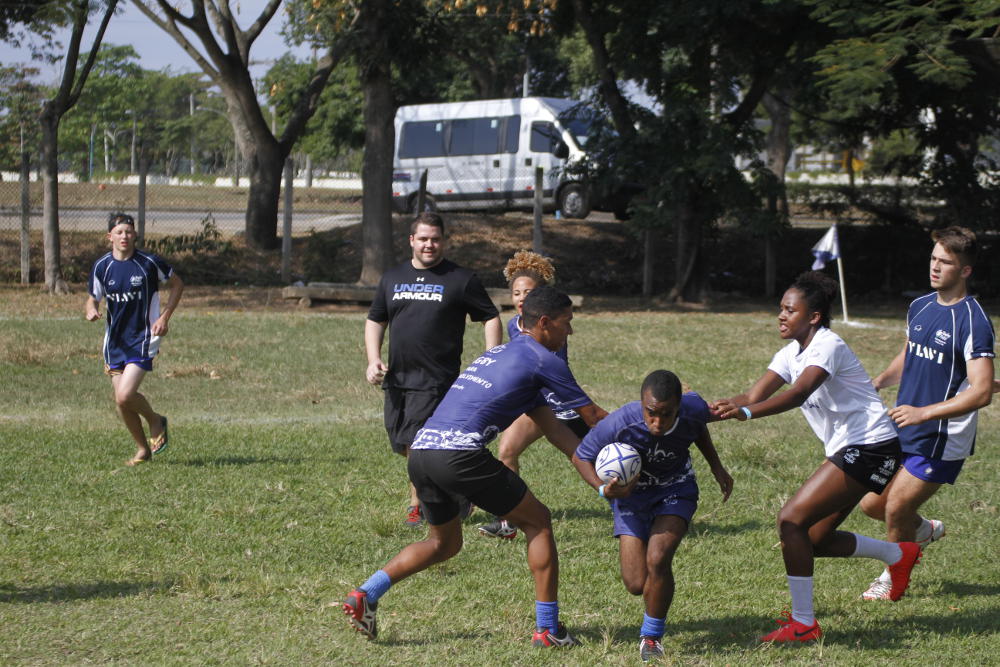 UmRio players in action during a local tournament, Niteroi, Rio de Janeiro, 2016
The UmRio Experience: Community and Values
Artur, 17, a tall, slim and athletic young man from Morro do Castro, anxiously approached his coach one day last summer after training. 'Have you heard from Felipe'? he asked. "We need to stay in contact with Felipe". For the previous several weeks, Felipe spent his afternoons with one of Rio's largest drug gangs based in a neighbouring favela. The teenager carried out the gang-assigned jobs sufficiently enough that they invited him to join. The drug posse offers boys and young men work, belonging and the opportunity to make a name for themselves. Joining would make Felipe part of the organisation that controlled much of the surrounding areas and drug trade, offering the chance for a potentially lucrative, if highly risky career.
Joining the gang, however, would have profound consequences, reducing Felipe's access to work, school and community facilities, all of which are somewhat closed to active gang members. It is not a short-term decision, for it's very difficult to leave gang life after joining. Young men are continuously loaned and re-loaned large amounts of drugs and weapons, which leave them indebted to the gang leaders. Gang members thus enter a vicious cycle of isolation, rarely spending time with their non-gang friends, who could be endangered during raids by rival gangs or police. Yet, gangs continue to offer money, respect and a way of life that is both common and appealing.
Volunteers and participants form a huddle to mark the end of a training session, Morro do Castro, 2015
Artur saw the UmRio project as a powerful alternative source of guidance for Felipe. It was a project that promoted a different vision for a future where children obtained jobs through professional education, and belonged to a community built around rugby. The community was built around daily activities, often facilitated by older members, and a constant stream of jokes, advice and emotional support that flowed through various social media. It seems an unlikely combination – rugby and a Brazilian favela – yet to Artur it was a valid one, one he himself pursued instead of invitations to join the gang.
UMRio has attracted more governmental, media and social attention than other local organisations for its ability to break through the dense social divides with projects like Eu Quero Ser. It's a blessing and a risk. In Rio, and Brazil more generally, cultural traditions with historical roots in the favelas are systematically classified as secondary – if not an embarrassment – to the imported European culture that the country's elite so openly seeks to embrace. The association of UMRio with European elite educational institutions provides the organisation with significant social capital that may make social barriers more porous, or may reinforce these hierarchies.
Despite their new sense of identity, the children in UMRio are frequently stereotyped, unable to escape the favela's long tentacles. Felipe's story is just one such example. The 15-year old followed the rugby pathway offered by UMRio and played for a local rugby club. Would-be teammates at this club, however, jokingly branded UMRio kids in terms of their presumed criminality. In one especially cruel moment, a senior member and coach commented on a Facebook picture of Felipe playing rugby for the club, saying "you post photos, but you don't come to training. Come to training and bring the other petty thieves". Despite Felipe's success on the rugby pitch, the extended rugby community, a community he felt part of and secure in, rejected him. They didn't see him as Felipe the rugby player. They saw him as Felipe the criminal.
Soon after this episode, Felipe was diagnosed with kidney stones. His operation was scheduled at a public hospital, but on the day of the surgery Felipe was turned away due to a lack of hospital beds. Once again, stereotypes of the favela followed Felipe, whose family history was one intertwined with the drug trade. For the past two years, Felipe's younger brother, 14, was ensnared in gang life, earning money that could easily pay for the basic medical attention Felipe needed. For all of Felipe's progress in school and the opportunities offered by UmRio he was unable to shed the petty criminal stereotype or earn a living that could pay for his basic healthcare. His subsequent decision was a no-brainer: he preferred the promises of the gangs to those of education and UMRio.
Felipe's pathway to the drug trade helped UMRio better understand its role in the community. Its original mission promoting notions of citizenship and inclusion to residents living in and around Rio's favelas evolved to one that engages children and young people to building their own community, and provides them with some of the services enjoyed by their peers in more prosperous regions. Rugby remains the central activity in building the community, but the organisation now provides over 30 hours of constructive extracurricular activities five days a week, of which just over 10% is based around rugby. Participants are now engaging in preparatory courses for middle school, high school and university entrance exams, English classes, vocational mentoring and youth-led community action programmes based around project-based learning. UMRio has provided over 200 children in the community with free access to basic dental care.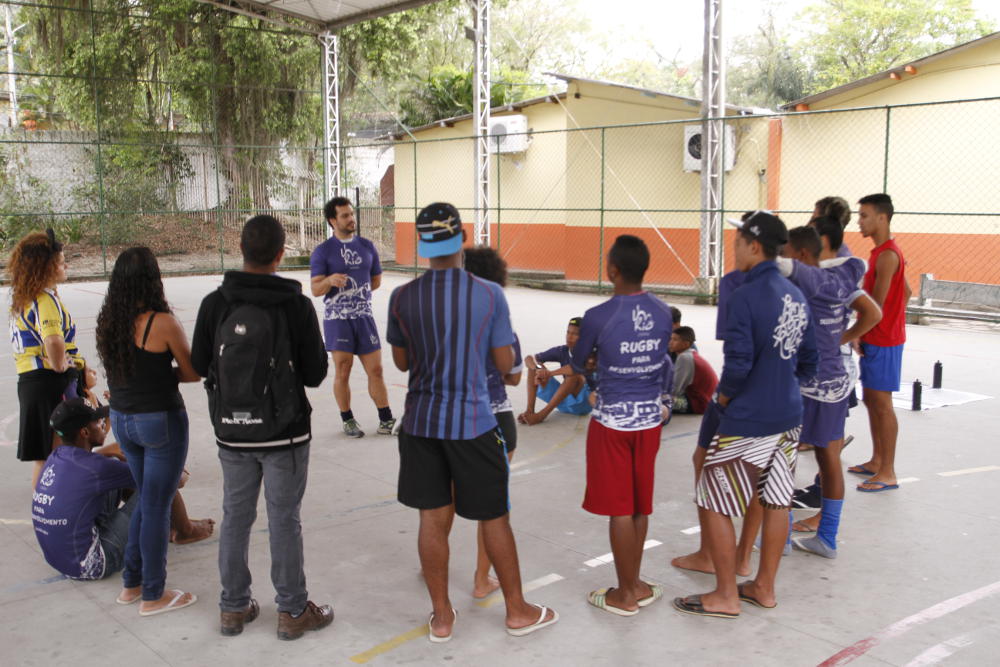 The first author explains a community outreach project to UmRio participants, Morro do Castro, 2016
However, several members of UmRio are struggling. Some of the eldest in the group, now 18-years old and finishing their final years of school, have been able to get employment locally, or in a nearby commercial centre, however others have been rejected by several prospective employers. While it is hoped that the various educational programs will help UmRio participants secure employment, it is still too soon to know. Other children in UmRio struggle with school. Others with teen pregnancy and the social stigma this carries in some families.
"Sports evangelism" tends to seek out stories of great success, wayward souls saved by the team. But these only do disservice to the industry, disguising the immense amount of work, planning, consultation, reflection and adaptation that are needed, and the need for far more than sport in addressing problems. There is no guarantee of personal or community development in sport. Children can't lift themselves from the confines of their social position with the kick of a ball. Nor is social capital passed on to the children as easily as the rules of a game. In its early stages UMRio was guilty of naively believing in the power of a well-run sports organisation to break down the stereotypes and social barriers facing Morro do Castro and its residents.
What very quickly emerged instead are layers of social networks which predated the project - bonds between neighbours, church goers, students and teachers and a broader community. The changing mission statement of UmRio reflects this realisation. Today there is a shift away from logics of development through sport, which are inheritors of colonial civilizing discourses, towards a recognition that the most important services might not happen through rugby, that the values promoted should instead come from the youth and community. Projects like Eu Quero Ser seem to realise this hope, even if temporarily.